A group of community churches, organizations, and generous individuals launched CityLink to help our neighbors advance their lives out of poverty through holistic care.
​
CityLink is a client-centered approach, built on the strength of our city's and nation's best practices. Our mission is to show God's love to those in need by providing an integrated path to holistic life change.
A group of churches and nonprofits in Cincinnati took a fresh look at why poverty was persisting in our community despite all of the efforts and substantial investments being made to reduce it.
​
They quickly learned that the current resources in our city were scattered, disjointed and difficult to access by the who most needed service. In fact, there was no systematic, coordinated place with the capacity to organize and deliver health and human services.
​
Our community did not need another agency. Our neediest neighbors needed a better path.
This realization led the group to identify ways to address a longstanding problem in a different way. They established CityLink Center - a beautiful, welcoming facility that co-locates best in class social service agencies, helps people set a life-changing goal and plan for the future through a personalized case management process.
​
CityLink is where individuals go to one place, get surrounded by one team, and find an integrated, holistic path to break free from poverty.
Since our lives are interrelated, trying to move just one piece can be ineffective or even impossible. CityLink collaborates with many partners to combine multiple services into programs which address various aspects of clients lives in one, seamless, experience.
​
We appreciate that life is complex, and by working holistically, we can see individuals reach their full potential.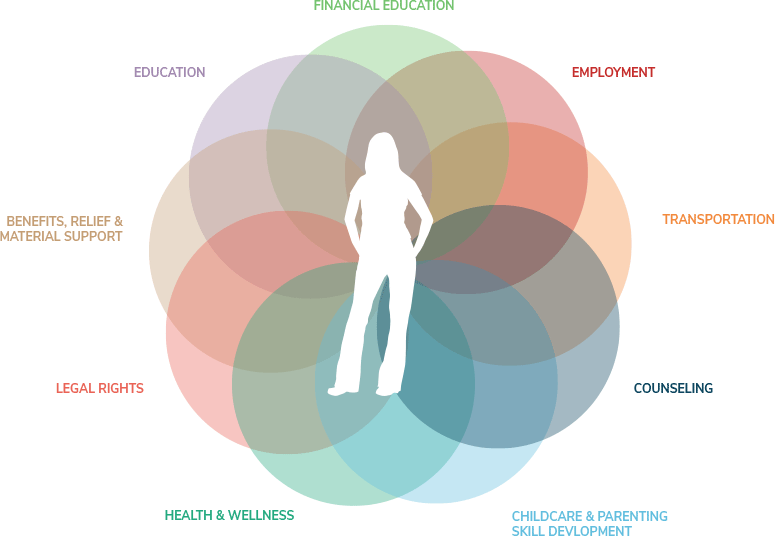 While our partners provide incredible services to our clients, CityLink Center is able to remain focused on our core competencies:
Services are located in one building, reducing the time restraints and transportation barriers for a client to engage in services
Multiple services are combined and sequenced to address various aspects of client lives in one, seamless, experience.
Volunteers are recruited, trained, and deployed throughout the center to amplify the impact of services.
Our unique model enables us to support and view multiple domains of our clients' lives. This allows us to better understand and align the best path forward for each individual through the lens of the seven following outcome areas.
​
CityLink leveraged historic client data to formulate a weighted scale, which we simply call the CityLink Client Progression Index. This scale allows us to uniquely quantify and evaluate the totality of our clients' experience in order to actively drive continuous experience. Evaluation of the data informs client pathways, program mix, and interventions all to help more clients achieve more gains and sustain those gains over time.
With a centralized, standardized data collection and case management structure, CityLink is positioned to simultaneously effective support clients and continuously measure success of programs.
​
CityLink leverages correlated, longitudinal data to discern optimal pathways for client outcomes, drive improvement for program offerings, and routinely adjust the program portfolio to ensure offerings are meeting the current needs facing our community.
​
​